March to Sustainability 2011 is a report for professionals working in the textile sector looking to keep themselves abreast with recent phenomena that are shaping the future of the textile industry: Sustainability actions across the supply chain. This edition of the report, looks at aspects of sustainability that concerns the textile supply chain from raw material all the way to the point that it is converted to finished product.

The focus of the report is on initiatives and targets being set by the brands and retailers for their supply chain:
. Materials usage
. Energy efficiency
. Greenhouse gases (GHG) and carbon emissions
. Water and chemical footprint
. Restricted chemicals usage
. Labor practices
. Sustainable logistics

Table of Contents
1. Preface i
2. Sustainability and the textile industry 1
3. Sustainability initiatives led by industry coalitions 6
4. Snapshot: brands with Sustainability initiatives in the supply chain 8
5. Supply chain Sustainability initiatives by brands
5.1 adidas Group 12
5.2 C&A Group 16
5.3 Gap Inc 20
5.4 H&M: Hennes & Mauritz 23
5.5 Inditex Group 26
5.6 John Lewis Partnership 28
5.7 Levi Strauss & Company 30
5.8 Lindex 34
5.9 Mountain Equipment Co-op 36
5.10 New Balance 38
5.11 Nike Group 40
5.12 The Otto Group 44
5.13 Patagonia Group 46
5.14 Phillips-Van Heusen 48
5.15 Puma 50
5.16 Recreational Equipment Inc 54
5.17 Timberland 56
5.18 VF Corp 58
6. Textile supply chain Sustainability initiatives by leading retailers
6.1 Carrefour Group 62
6.2 IKEA Group 64
6.3 Marks & Spencer 68
6.4 Tesco Group 70
6.5 Wal-Mart Group 72
7. Specialized Sustainability firms
7.1 Continental Clothing Company 76
7.2 Specialized Sustainability brands 77
8. Textile specific eco-labels and certifications 80
9. Forecast and road ahead 86
10. Index 88
Endnotes 89
Context
The global textile and apparel industry is predicted to grow to US$800 billion by 2015 as compared to roughly $700 billion today. It is also a sector with a large environmental footprint: being the single largest contributor to industrial waste water, the largest user of pesticides, using large volumes of water, consuming copious amounts of energy in production and dyeing, etc.
In a global market with increasing regulation and consumer preferences for 'sustainable products', ensuring sustainable production is gaining increasing importance. Sustainability has meant looking at both environmental and social aspects.
The environmental facet which includes ensuring sustainable sources of raw material, optimal use of energy, minimal use of toxic chemicals, reducing waste and preserving land; has been receiving greater focus in recent times. This report delves more on this aspect.
The drivers for the increased focus on Sustainability are
(a) Brand reputation protection and risk management
(b) Increasing resource (water, energy, land) scarcity in the regions of production
(c) Compliance requirements both at a product level (which is drive mainly by the importing market like REACH in the EU) or compliance requirements at a process level (which are driven by the production region laws)
(d) Consumer pull, where there is increasing consumer preference in the EU and North America (which are the largest markets) for sustainable labels.
For textile manufacturers, this presents an opportunity to differentiate themselves; as well as generate operational savings. Indeed there are a number of emerging labels, certifications and standards that allow manufacturers interested in Sustainability to create differentiated products. The business case for investing in energy conservation, water conservation, reduced chemical usage and other sustainability measures are becoming more apparent.
In March to Sustainability 2011, we seek to update manufacturers on actions being taken and contemplated by the world's leading brands and retailers, so that they may use it as an input for their near and long term plans.
The report covers 24 brands and retailers and also touches upon global initiatives and certifications that are becoming increasingly relevant.
Snapshot of textile and apparel brands with Sustainability Initiatives in their supply chain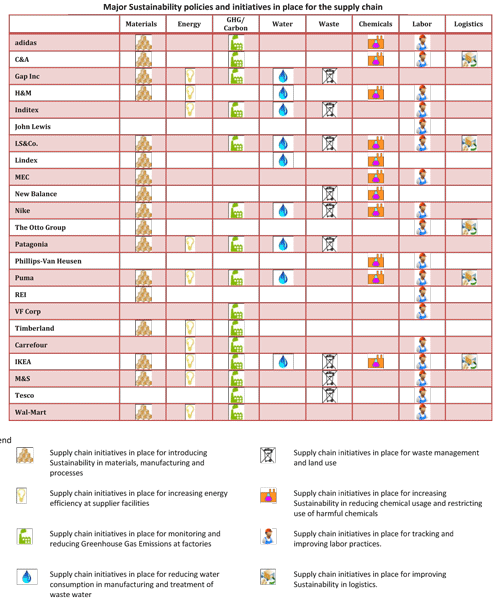 To download the report excerpt
click here
.
Report Author: cKinetics
cKinetics
is a sustainability accelerator providing operational consulting and strategic services for shaping scalable sustainability solutions and low carbon growth practices within industry and communities. The firm has offices in New Delhi, India and Palo Alto, California, United States. This report has been written by cKinetics' Market Access and Insight Practice. The firm is also working on supply chain interventions that include mapping, base-lining, risk assessment and inventorization.
For additional details please write to
MTS2011@cKinetics.com
Supported by Sustainability Outlook
Sustainability Outlook creates online and offline interactions to drive conversations around the topic of resource management in the business operations of the firms and their extended value chains. With a focus on emerging markets, Sustainability Outlook brings together business, policy, consumer advocates and other stakeholders.